Historic Match Statistics
6Historic Overview of Grey College vs Affies since 1923

The Rugby Teams of Grey College and Affies first played against each other in 1922 and 2nd time in 1953, the same year that Affies' legendary Springbok Louis Schmidt played in the First Team.
Grey's winning record against all other schools since 1966 is 95% while Affies has a winning record of 70% against all other schools which dates back to 1923. Grey produced a total of 43 Springboks to date and Affies 7 Springboks. Post-isolation Springbok counts (since 1992) are 22 for Grey and 4 from Affies. Over the last decade Grey and Affies produced the most number of senior provincial rugby players (Currie Cup, Super 14 and Vodacom Cup) than any other school in South Africa.
While Grey has a better winning record at the First Team level than Affies, it is interesting to note the strength and depth of Affies Rugby where Affies has won (on several occasions over the last two decade) the overall rugby count of all rugby matches played during the Interschools day.
The Grey vs. Affies Interschools has now evolved to be one of the Premier Interschools in South Africa and is a reflection of strength vs. strength between South Africa's foremost rugby schools.
See below a historical overview of these two great schools:
1920 – The year in which Afrikaanse Hoër Seunskool (Affies) was founded.
1953 – The first encounter between Affies and Grey which Grey won 3-0. This match was played as a curtain-raiser for the Free State vs. Transvaal match during the inauguration of the new Springbok Park in Bloemfontein. The legendary Springbok Louis Schmidt (father of Uli) played for Affies's First Team that year.
1956 – Affies and Wonderboom hosted Sentraal High School and Grey College during the long week-end of 31 May. Several newspapers remarked that the attendance of these matches exceeded the attendance of major club, universities and several provincial matches. This is still the case today.1957 – Grey won 22-0
1967 – Grey won 22-0. Dawie Snyman (Springbok) was the Grey vice-captain of the legendary Grey College team of 1967. Wilhelm Landman (Grey School Captain that played Western Province and previous MD of Richemont South Africa) was Grey's fullback that year.
1970 – Grey won 16-11. Dr. Pierre Edwards (headmaster from Affies and Springbok fullback) played for Affies and Robbie Blair (Springbok flyhalf) played for Grey.
1970 Affies First Team
Early 70's – Grey and Affies played regular Interschools in the early 70's which was re-introduced again in the early 90's
1971 – Grey won 19-0
1972 – Grey won 25-12
1973 – Grey won 10-3
1974 – Grey won 14-6. Morne du Plessis (Grey) and Tonie Roux (Affies) played for the Springboks against the legendary Invincible 1974 British Lions of Willie-John McBride
1977 – Grey produced a record four old Boys (Morne du Plessis (captain), Dawie Snyman (vice-captain), Theuns Stofberg and Robbie Blair) in the starting Springbok team against the World XV of Willie-John McBride during the inauguration of the new Loftus Versfeld
1980 – Dr. Pierre Edwards (headmaster from Affies) played for the Springboks against the South American Jaquars of Hugo Porta. Morne du Plessis (Grey) was captain of the Springbok team.
1981 – Grey produced a record 6 SA Schools players which included 5 of the 6 backline players including the captain and scrumhalf, Conrad de Beer. Other players were Helgardt Muller, Andre Greyling, Gerbrand Grobler, Leon Botha and Scheepers Gouws
1993 – For the first time Affies and Grey drew the First Team match (26 all), played in Bloemfontein.1995 – Grey beat Affies 37-13 and had two players in the winning Springbok Rugby World Cup squad. Ruben Kruger and Naka Drotske.
1996 – Affies beat Grey for the first time with a record score of 25-3 in Pretoria. This match was televised live on television. The 1996 Affies team has been regarded as one of the best Affies rugby teams in the history of the school and scored a record 146 tries that year.
1998 – For the first time, Affies won more rugby matches than Grey during the Interschools. The First Teams drew 23 all. The "Wit Bul" is introduced as the Affies mascot during the home match against Waterkloof.
1999 – Grey won 17-13. Wian du Preez (Springbok) played for Grey that day.
1999 – Grey produced five players in the 1999 Rugby World Cup Springbok squad (Pieter Muller, Ruben Kruger, Naka Drotske, Ollie le Roux, Werner Swanepoel)
2000 – Affies en Grey drew 17 all. Fourie du Preez and Wynand Olivier played for Affies..
2001 – Affies and Grey drew again (3rd time in 4 years). Score was 12 all.2002 – The 2002 Interschools between Grey and Affies in Pretoria will always be remembered as the last public appearance of Hansie Cronje before he tragically died one week later in a plane crash. This memorable occasion with Hansie at the Grey vs. Affies Interschools was also captured in the Hansie movie.
Grey and Affies were very equal in terms of strength at First Team level over a span of 3 – 4 years before the 2002 Interschools since they drew 3 times during this time frame. The build-up to the 2002 Interschools was electric and it was the general consensus that the team that would win that day will be crowned as the unofficial top South African schools rugby team for 2002 and also over the preceding 4-5 years.
Grey had several future Springboks and provincial rugby players in their team including Ruan Pienaar, Bismark du Plessis (both Springboks), and Andries Strauss (Sharks). Affies also had several future stars such as Derick Kuün (Bulls), Pierre Spies (Springboks) and Jacques-Louis Potgieter (Cheetahs and Bulls).
It was an intense match with Affies scoring early on and still leading 21-3 at halftime. It was published in the media after the match that Hansie called his dad (Ewie) during halftime and told him that while Grey is behind, he is convinced Grey would win that day. The second half produced some of the finest rugby moments from Grey scoring several tries to win 46-21.
For the 5th consecutive year Affies won more rugby matches on the day in all age groups.
2003 – Grey won 33-3 in Bloemfontein and produced 5 SA Schools players –Phillip vd Merwe, Richardt Strauss, Adriaan Strauss, Steph Robberts, Alwyn Hollenbach.
2004 – Grey won 32 – 29 in a nailbiting affair in Pretoria. Affies (16) won more rugby matches on the day against Grey (11). Grey's First Team loose forwards were Heinrich Brussow (Springbok), Deon Stegmann (Bulls) en Richardt Strauss (Cheetahs).2005 – Affies beat Grey for the second time in history in the year that Grey celebrated its 150th year. The score in Bloemfontein was 27 – 20 for Affies. Frans Steyn was the Grey flyhalf that day.
2005 – No less than 13 Old Greys formed part of the Cheetahs squad, including management team, that won the 2005 Currie Cup Finals against the Bulls at Loftus.
2006 – Affies won 18-13 in Pretoria. Grey won 20 of the 25 rugby matches played that day.
2014 – Grey College managed to pull of a magical victory of 31-42 over one of the best Affies teams in many years in Pretoria, the match was hard fought up front, the much smaller Grey pack forwards somehow managed to dominate the big powerful pack of Affies with some brilliant finishes by the back line players ensured a big win for Grey.
2016 – Grey College was on fire run riot with Affies beating them 53-29
 the 2016 team of Grey College produced SA Schools players
2019:
18 May 2019 Grey College was on fire leading the match 38-7 halftime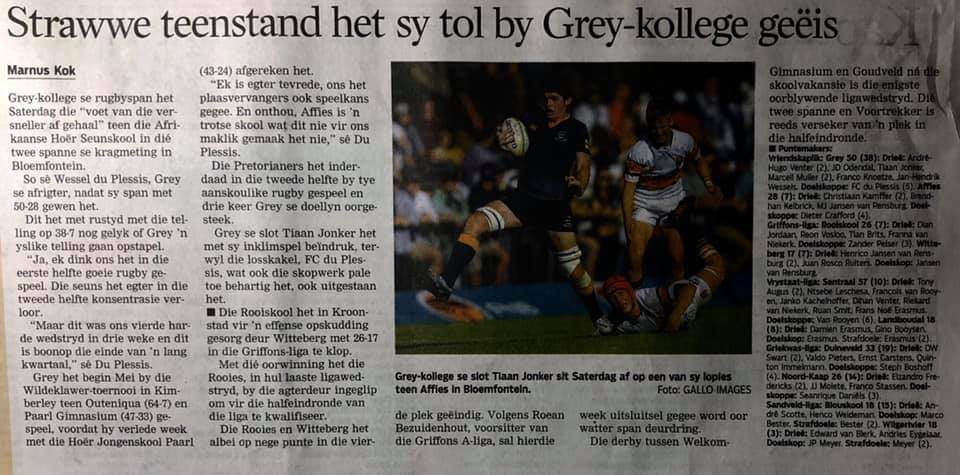 2020-2021 Covid19 Global pandemic no sport world wide.
2022:
The first time since after the COvid19 global pandemic Grey College and Affies met again, it was a titanic clash in Pretoria with Affies being favourites after beating Paarl Gimnasium & Paul Roos earlier this season, Grey goes into this clash without 5 of their star players of which school captain also side-lined for 6 weeks after Boishaai. Grey started with a brilliant 1st half attempt leading at halftime 5-29. The second half didn't start well for Grey as we were reduced to 13 players with two yellow cards, Affies fought back nicely in this period. When the two players returned, Grey got its rhythm back and finished the game off 24-43 for Grey.